Happy New Year everyone!
Wow it's been a busy year! We had 6 months to prepare for Ethan's arrival and then it was Christmas…we are not sure where the other 6 months went!
Ethan seems to have a different perspective here is what he has to say:
I am writing you to let you know what my folks have been up to for the past year and a bit, they think they've been a little busy…they ain't seen nothing yet!
Reflecting back 2005 was an incredible year for us.
A little bit further back though (September 2004) was when a bunch a great things happened in my parent's lives. My Daddy started his exciting new career with MGV Energy, we bought a vacation property in Tie Lake, BC. (picture of Mommy on our dock) and…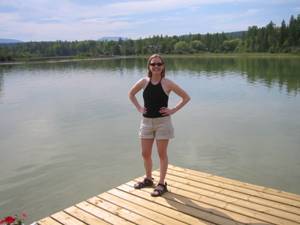 In October 2004 the BIG event for 2005 all started with what Mommy says was "just a little kiss"…and the next thing they knew they were pregnant with me (fondly referred to as Peanut)! Mom, do babies really come from kissing? I need to know cause Savannah and Ruby are always trying to hug and kiss me.
Mommy and Daddy took me on my first trip (it was a little dark and wet for me) spending Christmas 2004/New Year's 2005 cruising the beautiful and exotic Hawaiian Islands. We started in Waikiki for a couple of days of rest then got on the cruise.
The itinerary was something like this: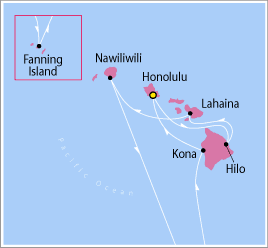 Honolulu (Waikiki), The Big Island (Kona), Kaui, Maui, Fanning Island, the Big Island(Hilo side) and ended the trip in Waikiki for a couple of days of relaxation before flying home.
Mommy's morning sickness stopped a couple of days into our trip but Daddy decided to have late sympathy sea sickness on New Year's Eve. Needless to say they celebrated New Years Eve quietly. Daddy eating soda crackers and Mom toasting the New Year with water, toast and a fruit plate. They really know how to party!
When we got back to Waikiki Dad decided to try learning to surf. I am glad Mom didn't try, or I would probably have had to make her get sick.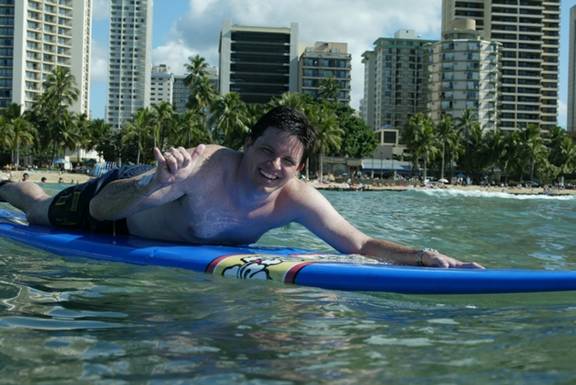 By May I was feeling a little cramped inside Mom, and was looking around for more space, so they decided to take me to Tie Lake as they say it is the "Great Outdoors". It was still dark, cramped, wet and muffled for me so I didn't really understand what they were talking about.
| | |
| --- | --- |
| Their World | My World (That's me inside Mommy) |
| | |
In June Mom and Dad decided that they had to "get down to business" and get ready for my arrival. "About time" I thought. So Mom and Dad had a great many discussions about how to paint my room, but all I really cared about was that there was some place for me to sleep and that they would be able to hear my screams from there.
They went with a jungle theme,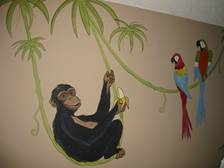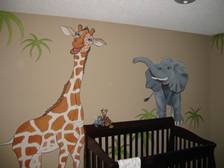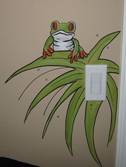 and my Dad built something that looks suspiciously like a prison cage.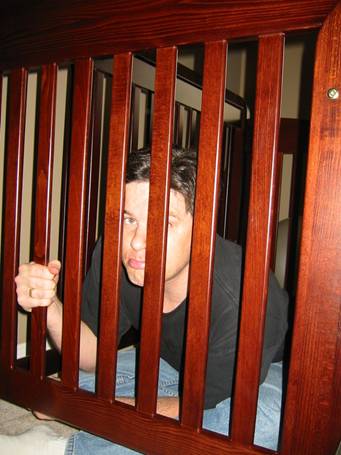 At this point they thought they were ready for me, boy did I have a big surprise for them. Dad was very helpful in supporting Mom during labor. Mom was going for some sort of a medal (which I don't think she ever got) as she didn't ask for anything for the pain.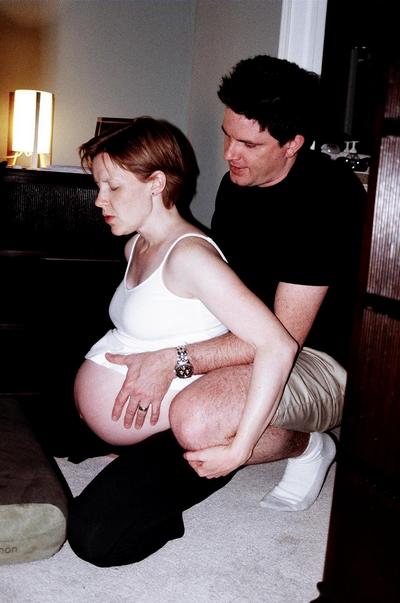 I arrived on July 2nd at 12:25pm which I thought was very respectable, it wasn't my fault that they started their "thing" at 10:30pm the day before. I came out the perfect size 6lbs 13.8oz, and 19 inches. For some reason Mom thought that was HUGE, and Dad thought it was a tad small.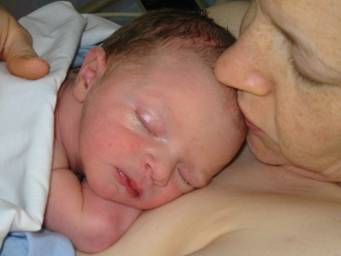 All I knew is that there was a lot more room out here, but it is not nearly as warm and cozy.
Right away I knew I had my work cut out for me, first I would have to make them forget all the stuff they took in the classes, I figured a little sleep deprivation would take care of that.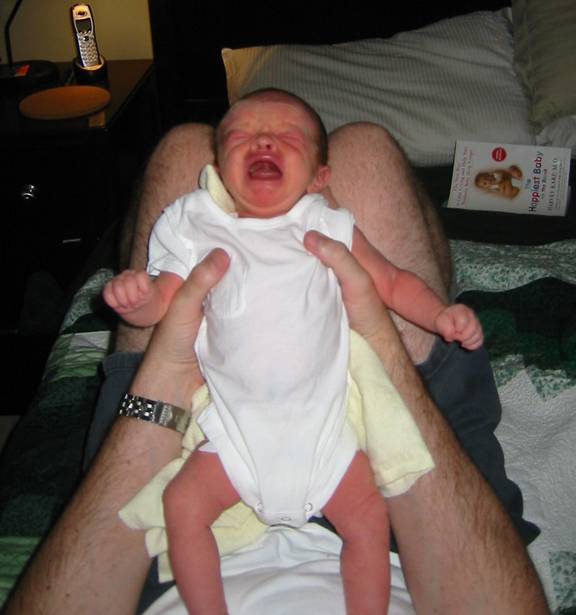 Then I had to get them onto my schedule and dedicated to catering for my every need. I knew this would be a tough one to pull off, so I decided to become as cute as possible.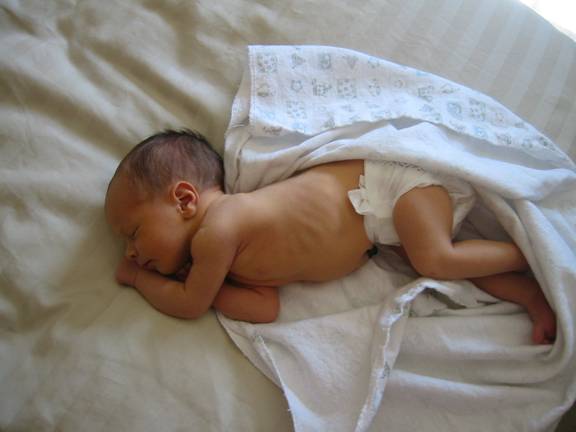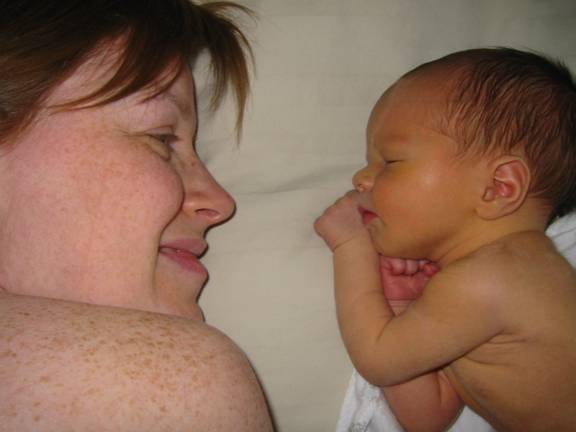 My parents say that Christmas came right after that, but I assure them that there was six months in between. They did a lot of learning during those six months, and I just about have them trained.
They held a party in my honor called a "shower" but nobody got wet, except for a little drool.
They dressed me up in all sorts of clothes.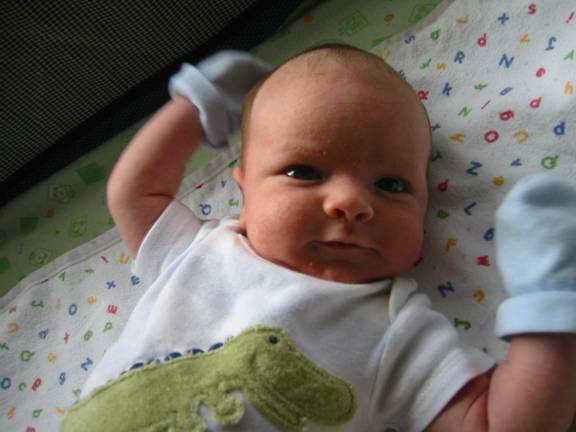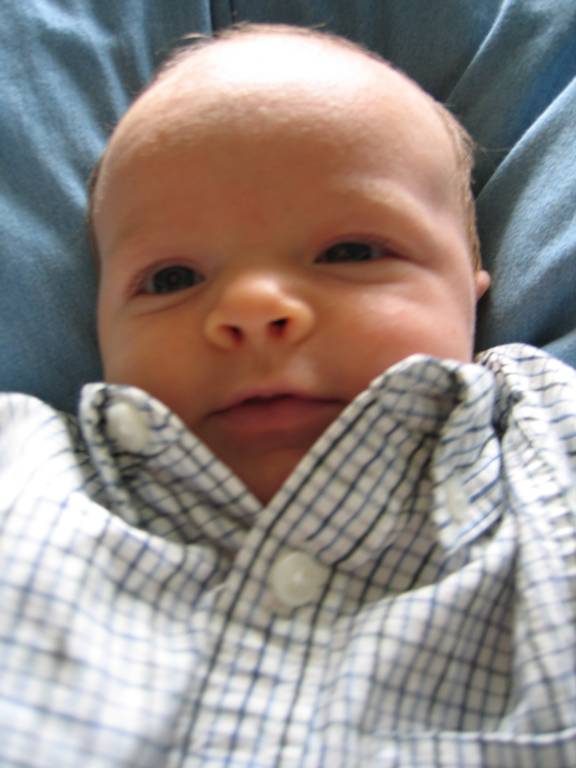 And to add insult to injury they perfected a straightjacket maneuver that they performed before putting me in my cage. It is actually a lot more comfortable than it looks.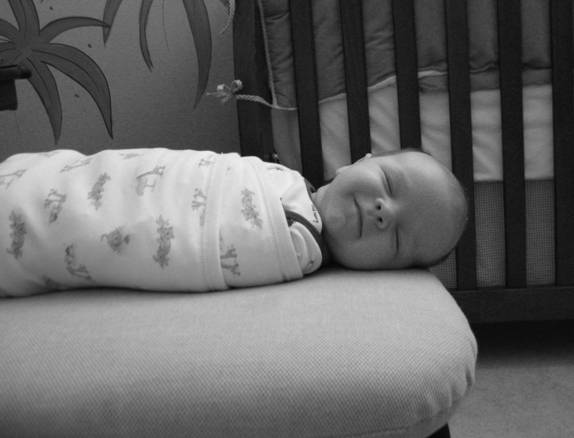 They took me out to Grandpa's place where I got to see Grandpa and his Mom (my Great Grandma) as well as Grandma.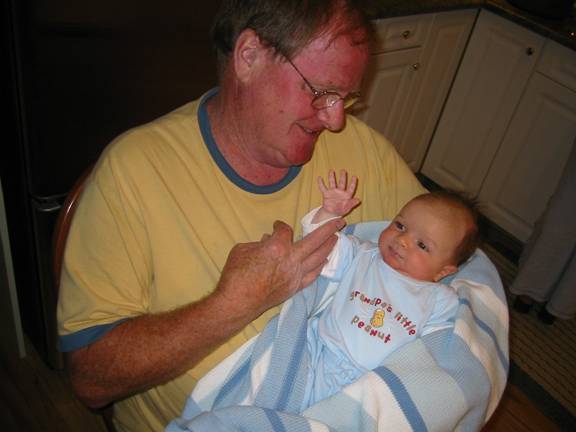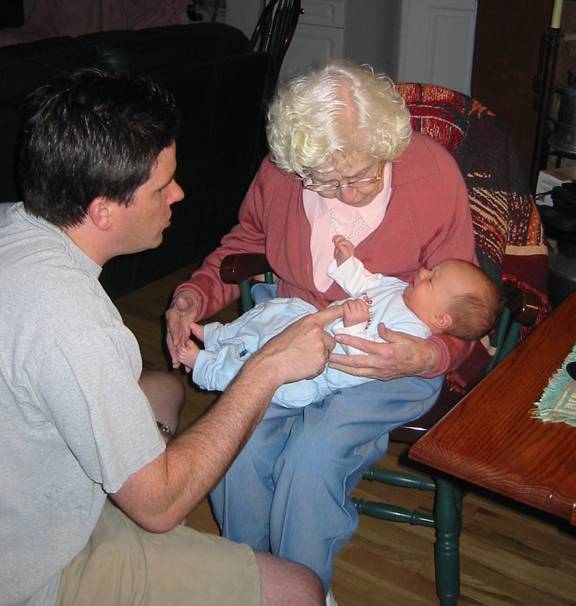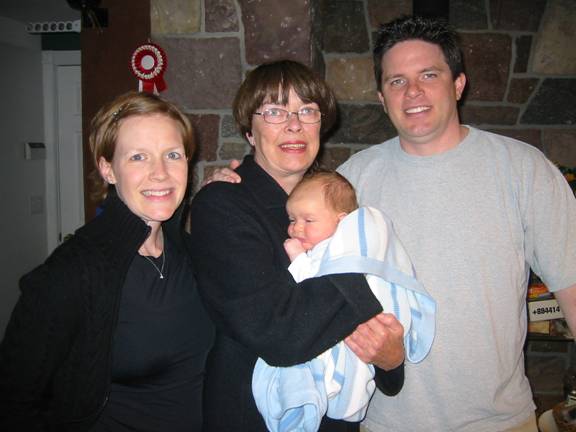 In September we took a trip back to Tie Lake, and I finally understand what my parents meant by the "great out doors", it was very relaxing, even if a little cold at night.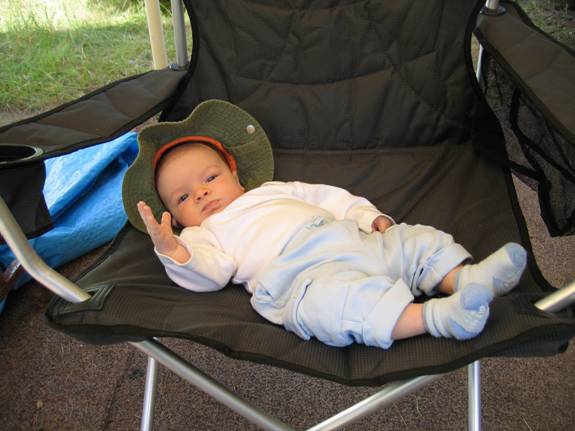 Dad thought I should get my feet wet, so he took me down to the beach.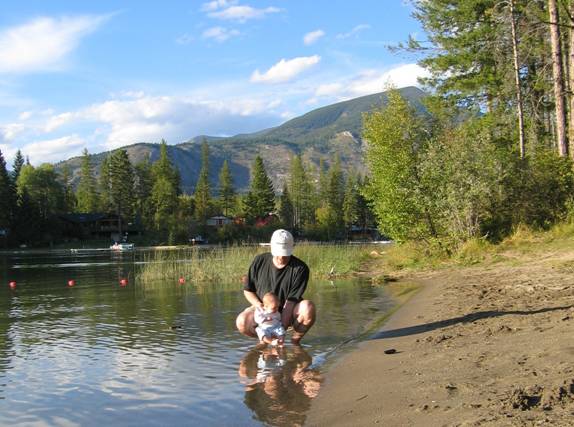 I let them know that I liked traveling, as there was a lot to see, but my next trip I could have done without.
Shortly after we got back I got an infection and our trip was to the hospital.
While the people seemed friendly, they were actually quite mean. They poked and prodded me, and stuck a needle in my head so they could pump some drugs into me. I think the whole experience was a lot more traumatic for my parents than for me, but I put on a good show none-the-less.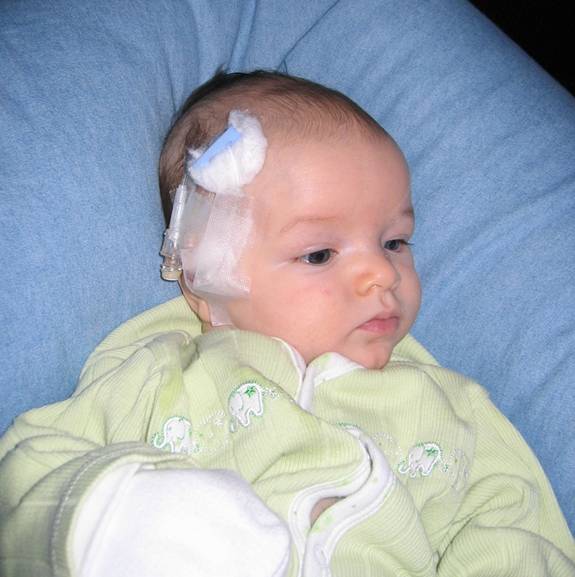 To make up for it we took another trip out to Tie Lake with Grandpa in his motorhome in October. It was fun as there was more room than the car, and I could play with Mom on the way.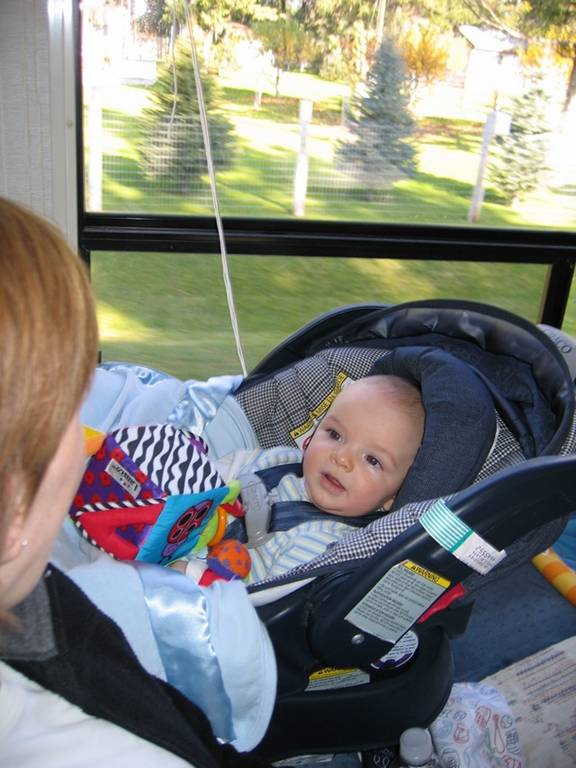 My Mom likes to run, but I get the impression that my Dad doesn't, so I was a little surprised when they took me on my first big run. It was called the "Run for the Cure" and it wasn't so bad, I even slept through most of it.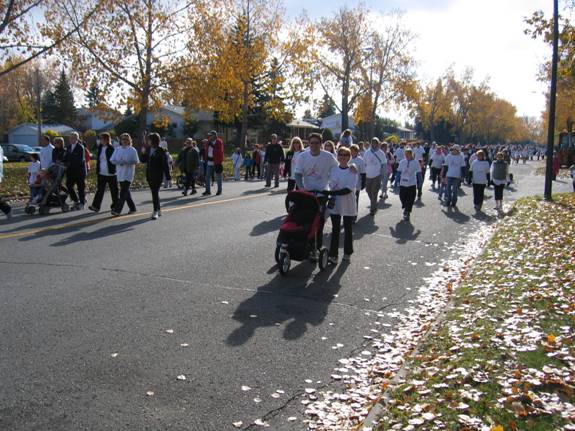 In the six months between my arrival and now there were always new people coming by, and a lot of them had little people my size, so it was great to meet them all. But one day does stick out in my mind, and that was Halloween. My parents got me a special outfit to put on, and everyone who came by would yell at the door until my Dad opened it.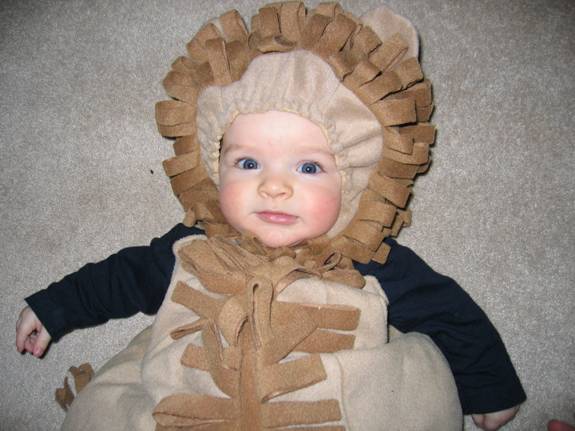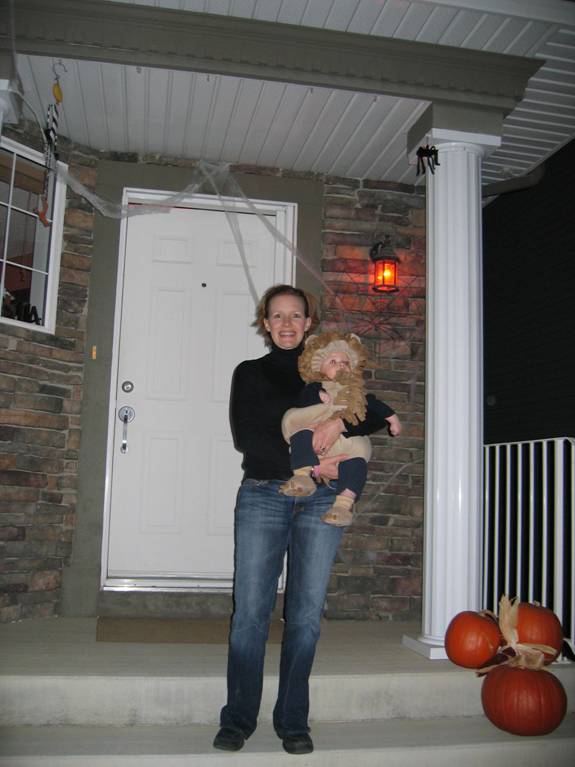 By November I was feeling like a big person, but my parents were still referring to me as little.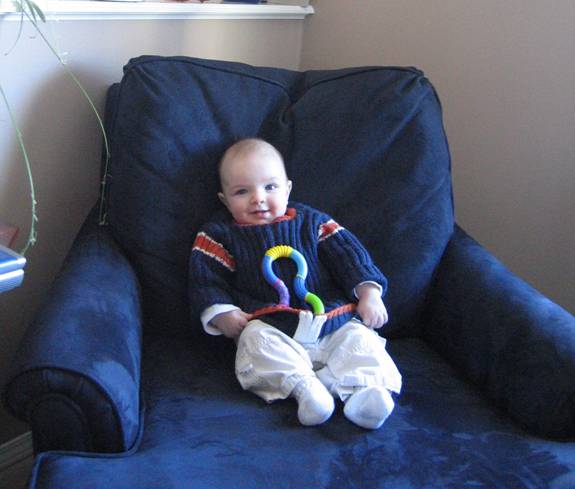 Also in November we celebrated Grandma's birthday, judging by the number of the candles on the cake, she is at least three times as old as I am.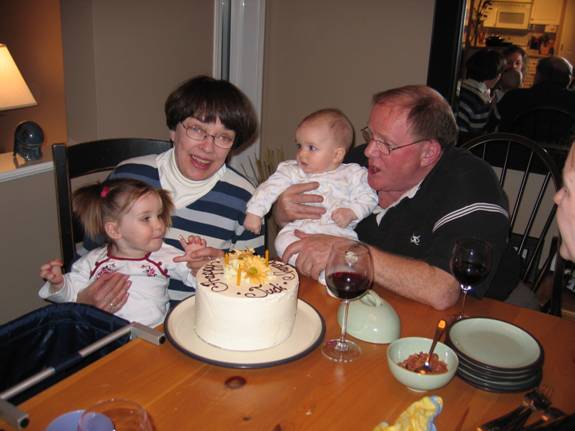 As the weather got colder, my parents gave me to a big man in a red suit. I guess he didn't want me because he gave my parents a present to take me back. I'm glad because we really get along.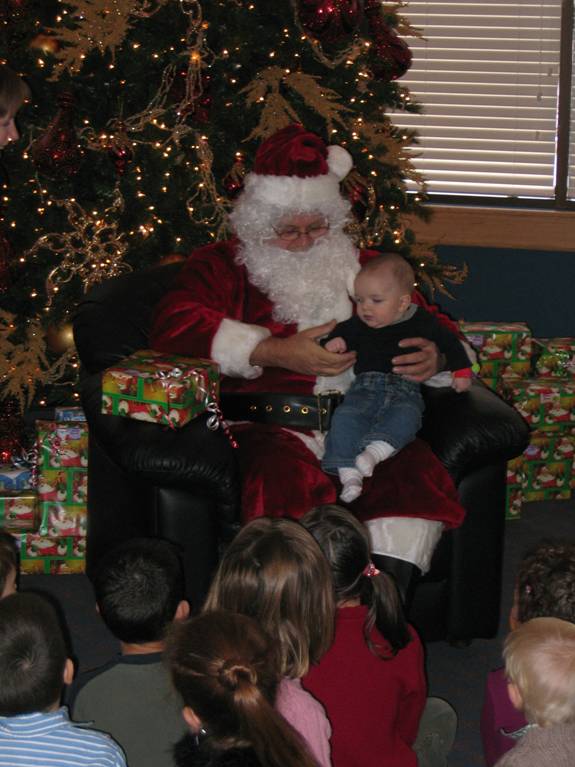 My parents and Grandma put up a tree with lots of shiny things on it. And then they invited a lot of people over for "Christmas cheer", they say the party was a smashing success.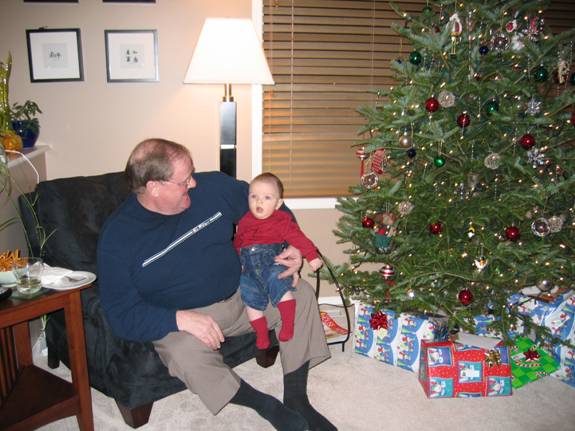 Once they all left it was quiet until the 25th when my parents made a big deal about the tree and all the boxes around it. I am not sure what all the fuss was about, but it was nice to see the smiles on their faces.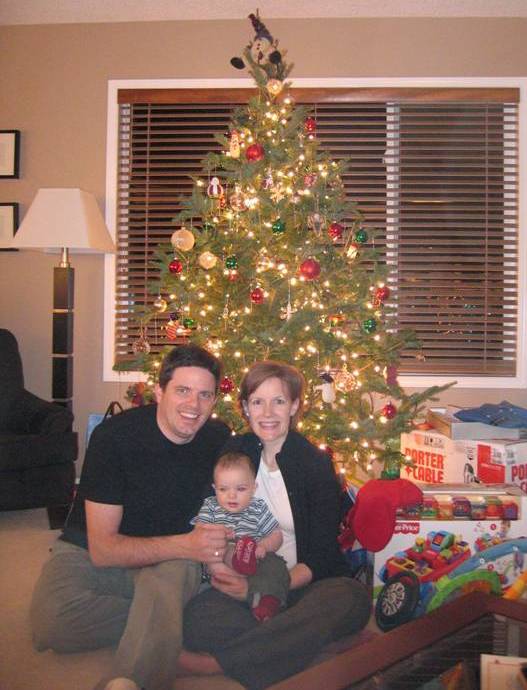 And that brings us to today, which my parents say is the start of a whole new year. I look forward to seeing more of those I have already met, and meeting the rest of you.